Studies reveal that most churches are aging and shrinking! As we and our active church folks age, the average age of our congregations increase. Eventually, due to death, conflict, or happenstance, our numbers decline.
We are not left powerless in the face of these daunting realities. Growing Young is a resource that explores 6 Core Characteristics of Jesus-Centered communities that are actively involving and retaining people of all ages, especially 15-29-year-olds. Through listening, reflection, discernment, and experimentation, Growing Young gives us the framework and support to make lasting and life-giving changes within our congregations so that we don't get in the way of what God is already up to in our communities.
Interested in hosting a Growing Young presentation?​
A Growing Young representative can come to your congregation and provide a presentation during your worship service, council or ministries team meeting. You will learn about Growing Young and what resources are available to your congregation to utilize.
Contact Stacey Burke at stacey@nepsynod.org to schedule a presentation
SowSession:
[sō] [ˈseSHən]
NOUN
A time to gather with a community of individuals looking to live a Jesus Centered lifestyle and take the Growing Young image in action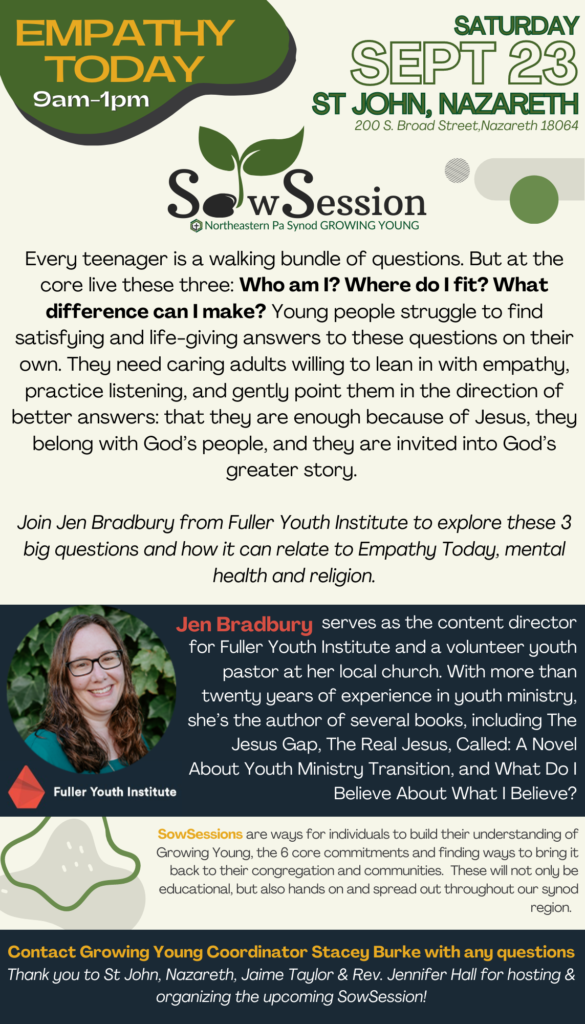 Resources & Helpful Material
Caring for Gen Z in a Post Pandemic World
A presentation on new data from Springtide Research on the needs of young people who are trying to navigate life in a post-pandemic world. Presented as a partnership between the ELCA, the ELCA Youth Ministry Network and Springtide Research.
Examples of Prioritizing Youth & Young Families Everywhere​
Are you a Growing Young seeker?​
Contact Stacey Burke, Growing Young Coordinator at stacey@nepsynod.org to begin the process of Growing Young within your congregation